Dear Family and Friends,

When we harvested this season's olive crop, we were mindful of that day in October 2017, when our focus here was our own survival. We escaped as the Tubbs Fire was bearing down on us, and in the months that followed, as we rebuilt our homes, we then watched to see which of our beloved olive trees would make it and which would not.

Some trees on the downwind side of our homes were totally incinerated and we quickly replanted those. Most trees on the upwind side survived and remained strong. Many others were seriously wounded. We cut those back to stumps, and like little phoenixes rising, they each came roaring back on the healthy root systems that had survived the fire.

We were wondering if we'd ever have enough olives to make oil again, but mother nature didn't hesitate. Her answer was "YES", so Quattro® is back! It's from the same four kinds of Tuscan olive trees, field-blended and milled into the same delicious extra virgin olive oil we've been making since 2006.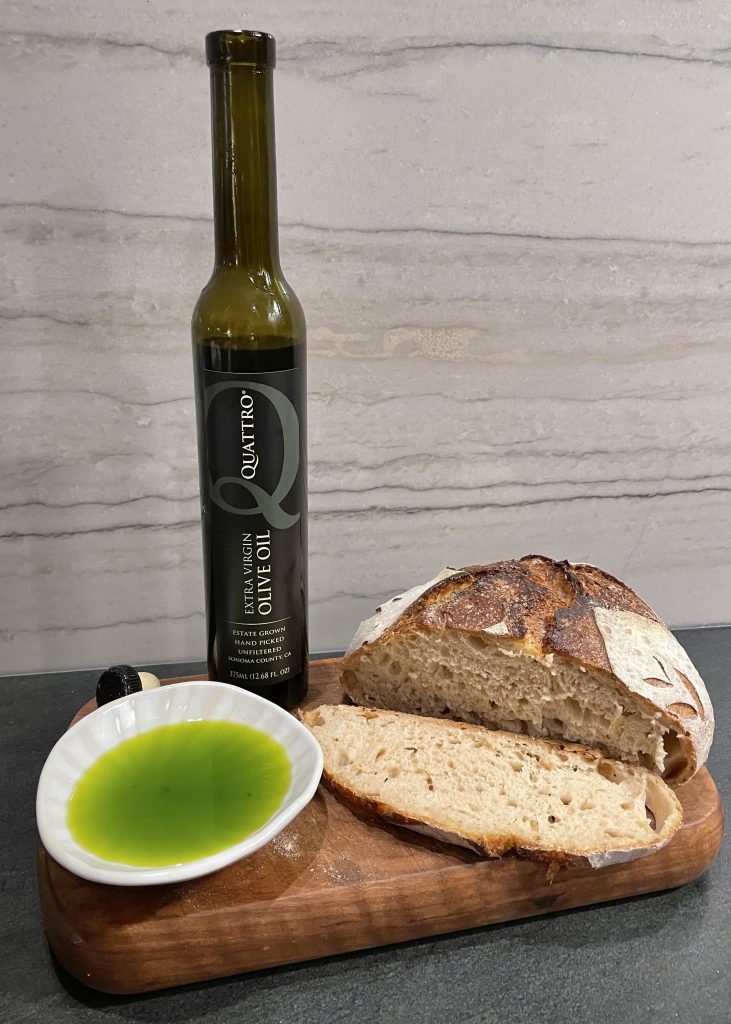 This crop was almost as big as those just before the fire, and our oil when fresh is bright green (that photo is unaltered!), slightly peppery, and tastes fabulous. Perfect for dipping breads, drizzling over grilled vegetables and on top of risotto, it is also terrific in salad dressings, and complements poultry, fish and meat dishes. Whether you have had the pleasure of enjoying it before, or are going to be tasting it for the first time, you will love it! It ages beautifully into a more buttery, softer profile if you keep it in a dark and cool spot after opening. Remember, we don't filter our oil so it will retain all the "good stuff" that nature provides. Your oil may be a bit cloudy at first, but the natural particulates that give it flavor will filter to the bottom of the bottle.
We do everything the old-fashioned way, by hand, and we rely on a wonderful group of people to harvest the olives, many of whom come back year after year. This year it took the 13 of them two days of picking to get the fruit into bin. We had the fruit pressed just a few hours after it came off the trees, by the same small family-owned mill we have worked with for over a decade, since before Quattro® won the "Best of Show" in the world's largest extra virgin olive oil tasting competition. We still have some left from the holiday rush, and can ship it to you right away.
We fill orders on a first-come, first-served basis, so please let us know how many bottles you wish to purchase, provide your shipping address, and we will do our best to see that all orders are completely fulfilled. As long as we have oil, we will still ship to you even if we cannot entirely fill your order. Like everyone else our vendors have increased their prices over the past few years, so we have had to increase ours to $65 per bottle plus shipping, but remember that olive oil lasts a lot longer (and doesn't go bad!) like those lovely but expensive bottles of wine we often bring as gifts to friends, and it is a unique and much-appreciated gift. We accept checks or you can pay electronically via PayPal.
27 years ago we planted our first orchard intent on creating a fresh, unique, hand-crafted oil to share with family and friends. We succeeded. Having recovered from the fire we are delighted to again share it with you. We hope that you will enjoy the unique experience of tasting truly fresh extra virgin olive oil.

From our family to yours, with love and pride, Salute!
– Burt, Raleigh, Jeremy, and Ann
Riebli Point Ranch LLC dba Quattro® Extra Virgin Olive Oil
707.529.7300 | bfohrman@quattrooliveoil.com